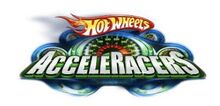 Hot Wheels AcceleRacers
 is a 2005 animated series of movies by
Mattel
. There are four original movies, starting with
Ignition
. The series concluded with
Ultimate Race
. It is believed that Starlight Runner Entertainment did not provide the story and script or any assistance in. The 4 movies and mini-sodes were animated by Mainframe Entertainment (now Rainmaker Studios).
The series started after Hot Wheels: Highway 35, taking 3 years after the event in the story. Vert Wheeler, along with Kurt Wylde, are racing in a street racing team known as Teku. Nolo Pasaro, leader, races against the Metal Maniacs, primarily Tork Maddox. After the participants almost fall off from a cliff, Gig intervenes and informs all racers to drive for Dr. Peter Tezla.
Many fans believe that the Ultimate Race ended with a cliffhanger and created many continuations as fanfictions, the most notable being the "The Edge".
List of Movies
Edit
There was a fifth movie planned but later recycled into a reboot animated by Mainframe and for 2007. The reboot was named "Stunt Strikers" and canceled shortly after. All concepts were recycled for Hot Wheels: Battle Force 5, which has no close connection to AcceleRacers.[1]
A false rumor is out in the fandom of AcceleRacers of the 5 movie to be called "The Truth".
Cite error: <ref> tags exist, but no <references/> tag was found