Chicane was a car driven by
Teku
driver
Karma Eiss
. It was her only car and she used it from the
Storm Realm
all the way up to the end of the
Ultimate Race
, where she abandoned it in the
Racing Drones HQ
in the attempt to save
Wylde
. It is used in the
Storm
,
Cavern
,
Metro
,
Ice
,
Neon Pipeline
,
Ruins
&
Cosmic
Realms
.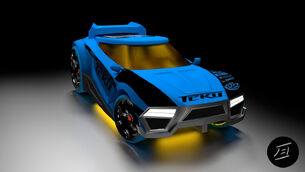 Features:
Edit
-Accelecharger Compatibility
-Tire Morphing Technology
-Blue Neon Lights Under The Car (Standard to all Teku Vehicles)
Drivers:
Edit
Die-Cast Variations:
Edit
-2005 Acceleracers
-2006 Acceleracers Orange
-2008 Triple Stunt Starter Set
-2010 Rattler's Revenge Track Set
-2012 Light Speeders
-2013 HW Racing Chrome Racers
-2014 HW Race Night Storm
-2015 HW Race 2015 Super Chromes
Ad blocker interference detected!
Wikia is a free-to-use site that makes money from advertising. We have a modified experience for viewers using ad blockers

Wikia is not accessible if you've made further modifications. Remove the custom ad blocker rule(s) and the page will load as expected.