History:
Edit
Covelight is a car driven by the Silencerz and is seen numerous throughout the series. Covelight makes its first appearance in the Metro Realm when it disguises itself as an RD-02 Model to help sabotage Kurt and Taro. It makes it's next appearance in the Neon Pipeline Realm. It can be seen at the end of the line following Magnesium through the portal. Once again it is seen in the Junk Realm with Anthracite helping defeat the Junk Monster. After the Junk Realm, it can be seen parked along with the other Silencerz vehicles. The last time Covelight is seen is at the end of the Cosmic Realm where it goes through the portal alongside Anthracite.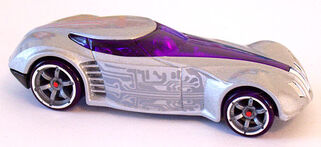 Features:
Edit
-EMP
-Invisibility
-Camouflage Piercing Light Rays
-Car Morphing
-6 Liter V12 with twin sequential superchargers
-600 HP
Die-Cast Variants:
Edit
-2005 Acceleracers Silencerz
-2006 Acceleracers Acceleron Series
-2x Launcher
-2006 Ultimate Track 3 Pack
-2008 All Stars (Pearl White)
-2008 All Stars (Metalflake Dark Gray)
-2009 Track Stars #10
-2012 Mega-Loop Mayhem 5 Pack
-2012 Light Speeders
-2014 HW Race Night Storm
-2015 Ultimate Spiderman Web Swing Drop-Out
Ad blocker interference detected!
Wikia is a free-to-use site that makes money from advertising. We have a modified experience for viewers using ad blockers

Wikia is not accessible if you've made further modifications. Remove the custom ad blocker rule(s) and the page will load as expected.