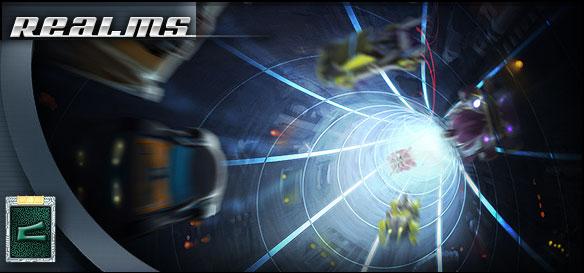 The Neon-Pipeline Realm takes drivers through huge pipes, and sometimes even on them. On the inside, neon lights illuminate the track, and parts pop out of the bottom. Some parts of the pipe are missing, or have holes in them, while others shrink in size. There are also doors that close at a steady rate, and other tracks branching off of the main one. Drafting is one skill the drivers must master, in order to win this realm.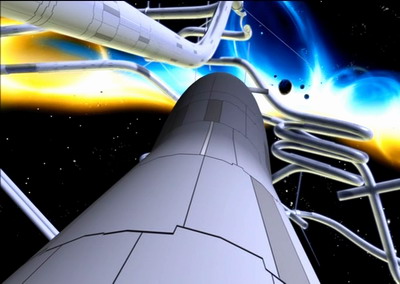 Sweeper Driver
MD-01 (x30)
Silencer
Silencer
Silencer
Silencer
RD-07 (x30)
Iriduim (Turns into 2 Magnesiums)
Accelium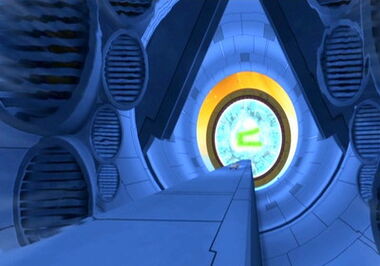 First appearance of: Spec-tyte, Jaw Jammer, Nightlife, Accelium, Technetium, RD-07, Magnesium, Anthracite
Winner: Major Wheeler
This is the first realm that introduces Motorcycles.
This is the first realm with no participatian from Kurt.
Of the four types of motorcycles seen in this realm only two were used again.
This is the only realm Dr. Tezla races in.
This marks the third time the Silencerz have stolen victory from Taro.
This is the first of two realms that takes place in space. The other is (obviously), The Cosmic realm
Taro is the only non-newcomer racer to enter this realm.
This is the only known realm where Lani Tam picks the drivers to enter the realm.
In this realm the sweeper shoots out 30 RD-07's
Ad blocker interference detected!
Wikia is a free-to-use site that makes money from advertising. We have a modified experience for viewers using ad blockers

Wikia is not accessible if you've made further modifications. Remove the custom ad blocker rule(s) and the page will load as expected.