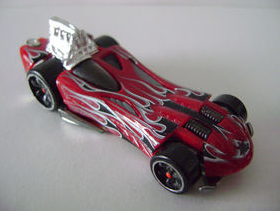 Power Bomb was originally going the be on AcceleRacers the Truth, but was cancelled. This car has a magnesium monochrome on push-rods and carbon fiber chassis the body features side engine intakes front brake heat outlets. On the top there are radiator outlets and springs for style. To save weight there aren't any fenders and there's only one cockpit. The main part of the car is the engine mounted on the rear is a 1321hp 90 degree dual overhead cam-shafted Hydrogen fuel injected aluminum V-16 with headers dual exhaust immediately going up to create down-force. The engine is rear mounted so the front wheels can turn (explained on the Spine Buster page) this is a Hot Wheels creation.
Ad blocker interference detected!
Wikia is a free-to-use site that makes money from advertising. We have a modified experience for viewers using ad blockers

Wikia is not accessible if you've made further modifications. Remove the custom ad blocker rule(s) and the page will load as expected.