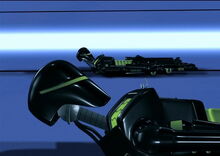 Also referred to as 'Sweeper Drones', RD-W1 are the workers in the Racing Drones force, working on things like the Sweeper. They are first seen in The Speed of Silence, when Gelorum questions one about why the Sweeper is taking so long to be constructed. When the drone answers that there were "unforeseen problems," Gelorum deactivates the drone. While RD-W1 doesn't drive any cars, they are used in the realms by the Sweeper. They are shot out of the Sweeper, and attach themselves to human cars, tampering with the components underneath, often going unnoticed by the drivers. This results in Spine Buster being destroyed in the Metro Realm, and Shirako's life nearly being taken in the Cliffside Realm.
RD-W1 has a similar appearance to MD-01.
Ad blocker interference detected!
Wikia is a free-to-use site that makes money from advertising. We have a modified experience for viewers using ad blockers

Wikia is not accessible if you've made further modifications. Remove the custom ad blocker rule(s) and the page will load as expected.