The RD Drones consist of 10 vehicles that specialize in different purposes; terrain, attack, speed, ect. They were built and designed by the Racing Drones, and some drones do not appear in the series. However, all vehicles in the series are described in a bonus track from the episode Ignition.
RD-01 is the first vehicle on the list, and does not appear in the series.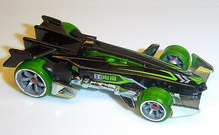 The RD-02 was a drones car in Acceleracers. RD-02 is powered by a 840HP Hydrogen fueled turbine engine on a 8 speed transmission. An Aluminum chassis holds RD-02 together on fully adjustable computerized suspension with a carbon fiber monocoque. The RD-02 has 16" carbon ceramic 18 piston brakes with drilled and slotted rotors. 18" carbon fiber front/20" wheels stability control enhancing wings. The aerodynamic coefficient are tested and where slimmed to nearly nothing.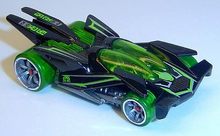 RD-03 may be the most sleek tanker in the series. Its widley distinguished by a round shell and small windows.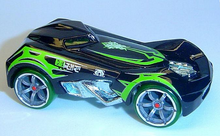 RD-04 is a terrain hybrid vehicle with a spare tire mounted to the back of the cockpit.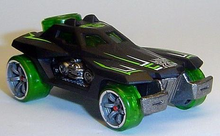 RD-05 was once mistaken for RD-08 as RD-L1's vehicle. From the battlefield to the track, this RD-05 is nicknamed "Fast Menace" in all facets of endeavors!
This car, belonging to the Racing Drones faction, with a 7-liter supercharged engine, computer controlled suspension, and composite wheels, this car was made for the realms. This is a futuristic looking car, it is a single seater with a huge set of rear wheels and a very generic yet stealthy paint scheme on a very slender looking body.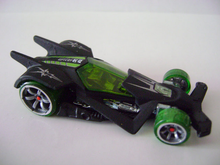 A bike from the Racing Drones that was never produced.
RD-08 is the vehicle RD-L1 drove in ignition, It was shown numerous times throughout the movie.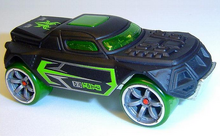 RD-09 is the vehicle
Gelorum
drove against Vert in the Ultimate Race.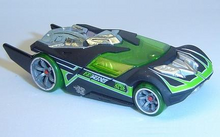 RD-10 is the last standard RD vehicle on the list, and does not appear in the series.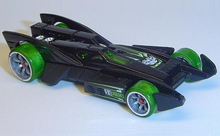 RD-L1 - Racing Drone Lieutenant 1 - RD-L1 drives RD-05 and RD-08 throughout the series, most notably in Ignition.
Out of all the racing drones cars that appear, RD-02 appears to be a common staple for the racing drones.

This gives it the surprising title of "Most wrecked Acceleracers car" seeing as it is wrecked over 100 times over the course of the series.

RD-06 comes in as a close second for RD-02's title of "Most wrecked Acceleracers car" as it is wrecked 33 times.
RD-07, though not appearing, still gets it's fair share of wreckage in the series with 28 wrecks.