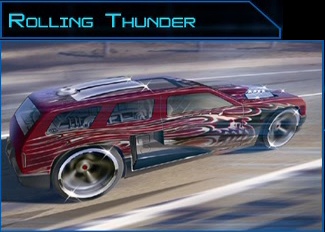 The Rollin' Thunder was an SUV-like vehicle with a large engine and a red paint job. It's only driver is Monkey, and there are actually two versions. The first version seems to be the weaker version, as it could not go over 300 mph and was destroyed by a drone energy ball in one hit, in the Storm Realm.
A second Rollin' Thunder was brought in by Porkchop on Old Smokey to replace it. The second version is not used in many of the races Monkey participates in, due to Nolo smashing it's window before the Metro Realm and Monkey riding in Old Smokey during the Junk Realm. It is used in the Lava, Cliffside, Ice & Neon Pipeline realms. The second version vanishes between "Breaking Point" and "The Ultimate Race", though it could have been destroyed during the events of the Ruins Realm. Afterward, Monkey replaces it with Rat-ified.
Features:
Edit
Drivers:
Edit
Ad blocker interference detected!
Wikia is a free-to-use site that makes money from advertising. We have a modified experience for viewers using ad blockers

Wikia is not accessible if you've made further modifications. Remove the custom ad blocker rule(s) and the page will load as expected.