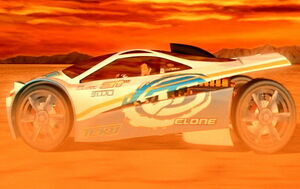 Sling Shot was Kurt Wylde's original car in the World Race. It sported mostly purple colours with different patterns at the back of the car.
After joining the Teku, he repainted his car predominantly blue and white with the Teku markings.
Sling Shot flipped over and lost a tire in the Storm Realm, causing him to switch his car Battle Spec.
Ad blocker interference detected!
Wikia is a free-to-use site that makes money from advertising. We have a modified experience for viewers using ad blockers

Wikia is not accessible if you've made further modifications. Remove the custom ad blocker rule(s) and the page will load as expected.