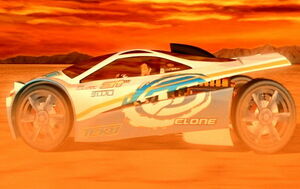 Sling Shot was Kurt Wylde's original car in the World Race. It sported mostly purple colours with different patterns at the back of the car.
After joining the Teku, he repainted his car predominantly blue and white with the Teku markings.
Sling Shot flipped over and lost a tire in the Storm Realm, causing him to switch his car Battle Spec.