Disclaimer: The Sound Realm is not an official realm but theorized to be one of the 4 mystery symbols.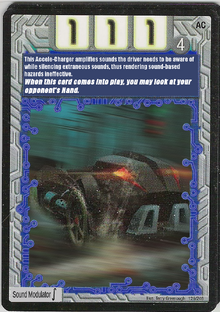 Sound Realm: The Sound track is constantly shifting, and enveloped in near-total darkness. Drivers will need to keep their windows down and strain their ears over the roar of their engines to hear the track itself, or else risk slamming head-first into a wall.
Sound Realm Accelecharger "Sound Modulator": This Accele-Charger amplifies sounds the driver needs to be aware of while silencing extraneous sounds, thus rendering sound-based hazards ineffective.
Ad blocker interference detected!
Wikia is a free-to-use site that makes money from advertising. We have a modified experience for viewers using ad blockers

Wikia is not accessible if you've made further modifications. Remove the custom ad blocker rule(s) and the page will load as expected.