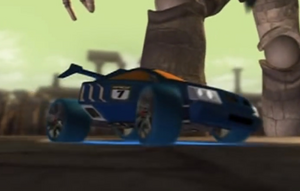 SpecTyte was
Nolo Pasaro
's car after he lost
Synkro
to a
Sweeper
in the
Metro Realm
. 
SpecTyte appears to be based off of a convertible sports car. It made its first debut in Breaking Point, appearing in the Neon Pipeline Realm. It later appeared in the Ruins Realm, where it escorted Vert Wheeler to the end of the realm after he crashed Nightlife. It then returned in The Ultimate Race for the Cosmic Realm. SpecTyte was abandoned when the human drivers all used the E.D.R in the Racing Drones HQ.
Ad blocker interference detected!
Wikia is a free-to-use site that makes money from advertising. We have a modified experience for viewers using ad blockers

Wikia is not accessible if you've made further modifications. Remove the custom ad blocker rule(s) and the page will load as expected.