Technology
Edit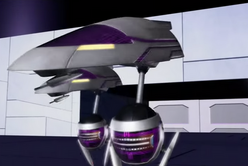 The Silencerz' X-88 Drone is a highly sophisticated hovering robot. X-88 uses only the most advanced technology, because Gig (as seen in Highway 35 and all 4 Acceleracers movies) was seen in Highway 35, as well as in The Ultimate Race which took place many years later.
Background
Edit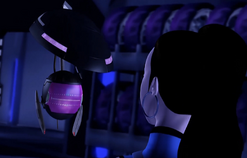 Dr. Peter Tezla's sidekick Gig is a stolen piece of Silencerz technology. Gig revealed himself as a Silencerz drone in The Ultimate Race when Lani searches for the AcceleChargers.
For no obvious reason, Gig (orange) always appeared with yellow 'eyes'. However, when he reveals himself to be a Silencerz Drone, he had purple eyes. The room's lighting may have been one of the factors.
When the Racing Drone soldiers entered the AcceleDrome's back corridor to finish off the humans, Gig says "Just remember; I'm NOT a human"
When the X-88 drones are seen in The Ultimate Race, they don't appear to communicate in any way.